Holiday Flat - Mountain Bike Tours - Harz Holidays
Bad Grund and Harz
Bad Grund
Bad Grund is located in the western part of the Harz at an altitude between 350 m to 580 m. The attractive and family-friendly city is surrounded by deciduous and coniferous forest and offers a couple of possibilities for recreation.
Visit and Experience:
Visit:
Iberger stalactite cave, timepieces museum, mining museum, arboretum.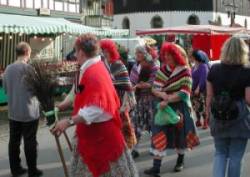 Experience:
Snowball fight in summer, family program, fishing, miniature golf, tennis, cross country skiing, camping.
Each year at the 30. April traditionally Walpurgis is celebrated in the center of Bad Grund and at the Hübichenstein where a spectacle with devils and dancing witches can be attended.
Health resort Bad Grund:
Health center with salt water bath and indoor pool, Eisensteinstollen for medical treatment of airway diseases, osteoporosis center.
Surroundings
The good location of Bad Grund near the Harzhochstraße allows a rapid visit of a lot of attractive landmarks and facilities in the Harz.
Wildemann (distance about 8 km from Bad Grund): The smallest of the Oberharzer cities was named after an forest and mountain troll. You can visit the 19-Lachterstollen built in the 16th/17th century. About 400 m of the 8800 m length of the gallery are open to visitors.
Clausthal-Zellerfeld (distance about 10 km from Bad Grund): The old university city is located at an altitude of 535 to 600 meter. Worth seeing are the largest wooden church of Europe and the Oberharzer mining museum, which shows the history of the Harz mining from the middle ages to the 19th century.
Lautenthal (distance about 15 km from Bad Grund): Worth seeing is the Lower Saxony mining museum daily opened from 9-12 o'clock and 14-18 o'clock. The visitor goes by an old mine train into the mine and gets information about old mining processes.
Osterode (distance about 15 km from Bad Grund): Well preserved old city center and new public swimming bath.
Herzberg (distance about 25 km from Bad Grund): Welfs castle and Einhornhöhle (unicorn's den) with a length of more than 300 meter.
Goslar (distance about 30 km from Bad Grund): The old emperor and imperial city with really old multifarious timber framed houses and numerous shops invites to an unhurried sight-seeing tour. Worth seeing are the medieval imperial residence and a lot of churches. The closed silver mine Rammelsberg and a part of the old city was in 1992 by the UNESCO appointed as "cultural and natural heritage of mankind".
Bad Lauterberg (distance about 30 km from Bad Grund): Public bath and toy museum.
Braunlage (distance about 35 km from Bad Grund): Cable car to the Wurmberg and ice sports hall.
Bad Sachsa (distance about 35 km from Bad Grund): Leisure park with public bath.
Gliding airfield (distance about 25 km from Bad Grund): At the Rotenberg near Hattorf
Brocken (distance about 40 km from Bad Grund ): Highest mountain of the Harz with an altitude of 1.142 meter. Reachable with the Brockenbahn a narrow gauge railway from stations in Schierke, Elend and Drei Annen Hohne. There are also different hiking trails to the top.
Oberharzer lakes (distances about 10-30 km from Bad Grund): A multitude of beautiful lakes invites for swimming.
Storage lakes and dams: Okerstausee, Innerstestausee, Granestausee, Oderstausee and Sösestausee.
More information about the Harz you can find under harzinfo.de and harz-urlaub.de